News
Abracadabra…the magic of Reinvention!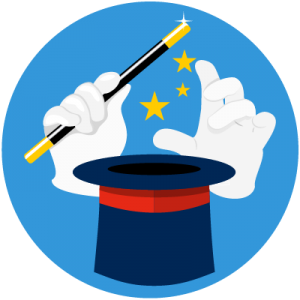 We've all been gifted with an amazing imagination, so just imagine what it would be like if we could be, do or have anything we ever wanted and achieve all our objectives at the same time.
By applying a number of very specific techniques required to maintain a positive focus at a personal level during times of rapid change, our Road to Reinvention (R2R) programme promises a direct impact on you, your teams and your organisation.
With the creation of a mutual network of cooperation where people work towards adopting the disciplined mindset and emotional resilience of a winner, intense periods of change or uncertainty are uncannily absorbed into the ether, disappearing right before our very eyes…….as if by magic!
Once you discover that the magic of the 10 secrets of reinvention below are more about taking responsibility for your life, and less about simply wishing on a star, there will be no stopping you!
Cast a spell, believe in your power and determine your purpose!
Wave your wand, focus intently and achieve that purpose!
Crystallise your end goal and watch all the hurdles disappear!
Make the competition vanish so that you win every time!
Use your setbacks to take a quantum leap forward!
Connect energy from mind and body and fly through your day!
See into the future with the magic of creative visualisation!
Engage your brain and transmute your imaginary thoughts into concrete reality!
Transfigure your life's chores into charms through the power of choice!
Reclaim your personal power by discovering the gems of your subconscious mind!
To find out more about our bespoke R2R programmes and how they could be of help to individuals and groups alike, please contact us at [email protected]