News
The needs of the many……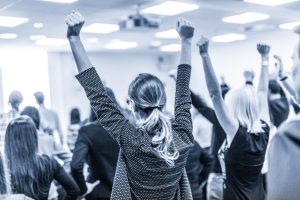 Situations crying out for leadership are easy to find. Focusing on the precise need that will bring about productive change, however, well that is another matter, entirely.
As we begin to assess what is required, we soon discover that a 'need' is very different from a 'goal'.
For instance, the goal of a group may be to create a new marketing campaign, or to set up a revised production schedule but, at the less visible level, the leader must fulfil some of the group's more basic needs in order to determine whether the goal is achievable.
Our natural strengths, as leaders, will come out in response to the situations we face. So, from the list below, consider how well the soulfully skilled leader's response matches your own:
Need #1: Safety and security
Leader's response: I'm strong when it comes to defending others. I keep my head in a crisis. I'm good in an emergency.
Need #2: Achievement and success
Leader's response: I know what it takes to win. I can motivate people to achieve. I can make people believe in me.
Need #3: Cooperation
Leader's response: I'm a conciliator who can see both sides of a conflict. I'm steady and not impulsive. I know how to get people out of their entrenched positions.
Need #4: Nurturing and belonging
Leader's response: Empathy comes easily to me. I understand human nature. I know how to get people to forgive and see the best in one another. Handling emotional situations doesn't fluster me. I'm comfortable with it.
Need #5: Creativity and progress
Leader's response:  I can get people to think differently. I know what makes creative people tick. I love to explore new possibilities. The unknown doesn't frighten me.
Need #6: Moral values
Leader's response: I feel a calling. I want to heal old wounds and help people see they have a purpose. I want to share my understanding of what's important.
Need #7: Fulfilling potential
Leader's response: I feel whole. I influence others who want to learn and grow and wish to experience flow and inner peace. My inner silence speaks louder than words. I lead through my presence. Others value my wisdom.